4 PC. TWIN BEDROOM SET
Lennart Collection by Furniture of America
A child's bedroom is much more than a place for them to sleep safe and cozy. It's an immersive world for them to play in and use their imaginations! Regardless of space limitations or other obstacles you may face while choosing the style and furniture for your child's room – there is a solution available for anything!
VINTAGE FARMHOUSE TWIN PLAYHOUSE LOFT BED WITH BOOKCASE STORAGE AND DESK
Tree House Collection by Acme Furniture
Plan Ahead
Children's rooms are typically a smaller area than your living spaces or master bedroom. With this in mind, it's best to plan out what furniture you'll absolutely need, where you are going to arrange it and what personal belongings have to be incorporated into the space. You can use graph paper to rough out a sketch of the room, noting where the doors, closets, windows and electrical outlets are located. It helps if you add measurements – if you have a 12′ blank wall and you want to place a 10′ bed along it, you know you'll only have 2′ of foot space between the end of the bed and the next wall.
RUSTIC TWIN OVER FULL BUNK BED WITH STORAGE DRAWERS
Haley II Collection by Acme Furniture
Think About Storage
Due to the nature of being a kid, they most likely have plenty of clothes and toys that need to be stored away to keep the room neat and tidy. Scope out whether all their clothes are going to fit in a closet. Do you need dressers? Do you need toy boxes or canvas bins for a cubby bookshelf? To maximize space, purchase furniture with storage solutions built-in or install floating shelves to hold books, figurines, stuffed animals etc.
INDUSTRIAL FULL/TWIN/QUEEN TRIPLE DECKER BED
Lodida Collection by Furniture of America
Plan Ahead for Sleepovers
Bunk beds are a common and simple way to sleep multiple people in the same room. Whether you have more than one kid sharing a room, want to add an extra bed for a guest or just want to maximize the space with a desk/bed combo, there is a solution for everyone! Day beds and futons are also a great way to save space during the day and only need to fold out at night or when you have company.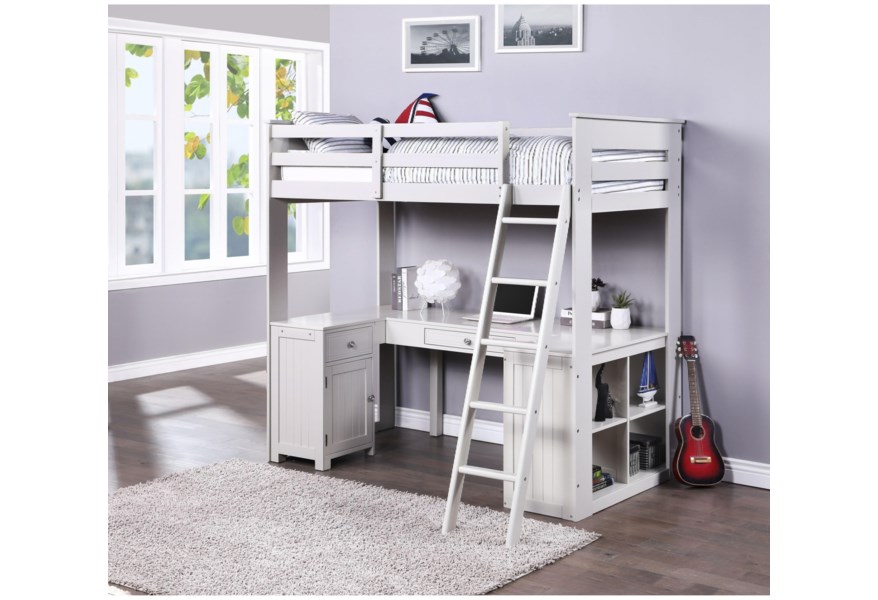 TWIN LOFT BUNK BED WITH CHEST, DESK & BOOKCASE
Ambar Collection by Acme Furniture
Choose the Right Desk
A desk is a multifunctional and useful piece of furniture. Your child will eventually, if not already, have to complete homework assignments. They will need to have a comfortable and feasible working area to perform their best. Some desks can also be used to store books, crafts, clothes, school supplies, toys etc., in the various drawers and shelves they may come with.
4 PC. TWIN BEDROOM SET
Lennart Collection by Furniture of America
Discount Children's Bedroom Sets
Purchasing furniture for a child's room second-hand may be more cost effective. Children can be messy and destructive – think crayon drawings all over the walls and dresser! A kid who starts off with a twin sized bed in their early years, may need to upgrade to a full sized bed as they grow taller. A child will eventually grow into their own personal style and want to upgrade from their lion and tiger wallpaper to something more mature. Shop around and do what is best for you and your families needs and budget! There is truly something available for every situation!