DINING ROOM GROUP
Hyndell Collection by Signature Design by Ashley
Great memories are made when families are gathered around a dining room table. Dining tables are available in any size, style, and color you can imagine, so there is a dining table made for everyone. The following tips will help you decide what type of table best fits your lifestyle.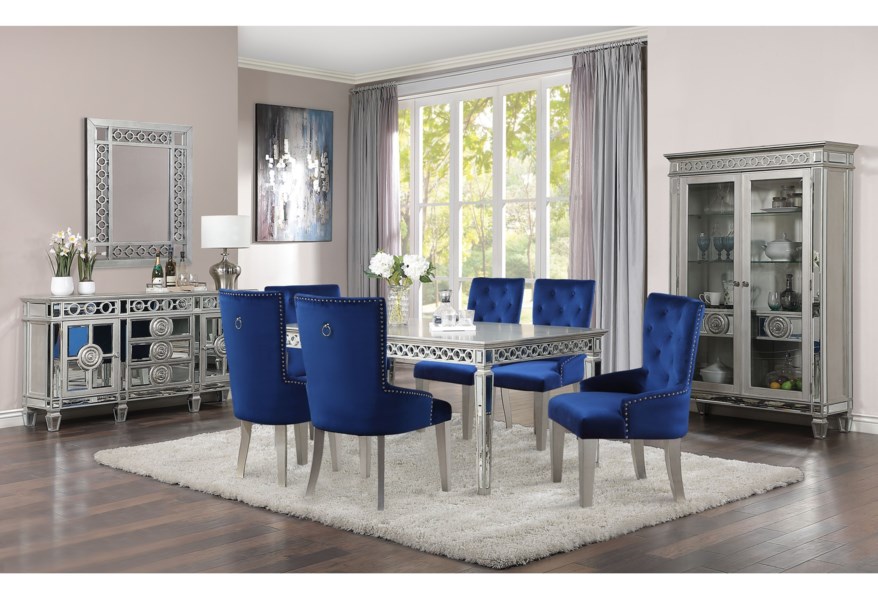 FORMAL DINING ROOM GROUP
Varian Collection by Acme Furniture
Choose a Style
The size of your table will be determined based upon how much space you have in your home and how many people you will typically need to fit around it. You want a table that doesn't overcrowd your space, and still be able to provide the functionality you're seeking from it. Tables that can fold down to a smaller size when not in use are ideal for people who don't have a lot of space. Bistro sets are great for someone who is living alone or doesn't have a lot of space for a table. Make your dining table and other dining room furniture cohesive with the aesthetic of the rest of your home or design the room to be its own special style. Your living room can be boho and your dining room can be farmhouse. There are no rules – just be creative.
FORMAL DINING ROOM GROUP
Vendome Collection by Acme Furniture
Type of Furniture
The best dining table will be the one that works the best for your budget, fits your space and will last for many years. Choose a table that is simple and sturdy – something timeless that you can incorporate into different styles over time. Measure the dimensions of the space where the table will go. Remember that people need to walk around the table and pull-out chairs. A rule of thumb is to ensure there is three feet of open space on all sides of the table.
GLAM FORMAL DINING ROOM GROUP
Kacela Collection by Acme Furniture
Dining Table and Chairs
The size of the dining set is based upon the amount of feasible space you have to place a table and how many people you want to fit around it. People don't want to be cramped, so be sure to leave enough elbow space in between chairs. Bench seats are a great option when you need to save space, because they can slide all the way under the table when not in use. Benches can also provide additional storage.
FORMAL DINING ROOM GROUP
Realyn Collection by Signature Design by Ashley
Lighting
If you're opting for an overhead lighting fixture, it should be scaled to the dining room and your dining room table. Hang fixtures approximately 30-32" inches above the center of the table. The lighting should be sufficient to illuminate the room while you're eating or using the area, while not imposing on conversation and functionality. If you have the space and need extra light, you can incorporate wall scones or lamps on a buffet or console. Another easy way to control lighting is to use a dimmer. A dimmer lets you adjust the lighting to fit any time of day.
FORMAL DINING ROOM GROUP
Charmond Collection by Signature Design by Ashley
Area Rugs
Rugs add color and texture to a space, while also helping to anchor furniture and add definition to spaces. Choose a rug that accommodates chair legs, even while someone is seated. A safe way to determine the size of the area rug you need is to measure the width and length of the table, then add 24 inches minimum to each measurement. Don't forget to add the extra length if you table has a leaf that allows it to expand!