7PC QUEEN BEDROOM GROUP
Adelaide Collection by Crown Mark
You spend a third of your entire life sleeping in your bedroom and this statistic doesn't even account for watching TV, reading a book, or putting away the laundry. The bedroom is one of the most important rooms in a home because it is where we go to relax and rejuvenate. Being well rested is as essential to our well being as breathing and eating. Therefore, this space should make you feel secure and be a place where you can escape the hustle and bustle of everyday life. Use the following 7 tips to create your dream bedroom where you can dream peacefully.
CONTEMPORARY QUEEN/FULL PANEL HEADBOARD WITH DECORATIVE MOLDINGS
Culverbach Collection by Signature Design by Ashley
01 Bed Frames
The statement piece of a bedroom is typically, the bed. The style of frame you choose can alter the appearance of an entire room. You can create an accent wall with a huge artistic headboard, or you can use a simple metal frame just to keep the mattress up off the floor. Frames that include built in storage are a great solution for smaller spaces where you might have a lack of closets or floor space for dressers. The best option when choosing furniture is always the pieces that offer the most functionality. In addition to style, you want your furniture to serve their purpose.
LEVEL 2.0 BACK SLEEPER PERFORMANCE PILLOW – MEDIUM BODY
Level Performance Pillows Collection by Bedgear
02 Bedding and Pillows
Sticking with the theme of the bed being the statement piece, you want your bed to drawn you in when you see it. You want your bed to be comfortable and make you feel calm. Pillows can be used as décor, but also function as head and neck support while you sleep. Choose pillows that are the correct density for your sleeping style as well as a suitable fabric or covering that feels good on your skin. Comforters come in multiple weights, so it's best to choose one that isn't going to make you sweat while you sleep or isn't going to keep you warm enough. Duvet inserts are an easy and fun way to cover your bed without having to purchase and store multiple comforters. You can buy them in lightweight, medium (all season) or heavy to accommodate the temperatures where you live or how you sleep. Better yet, the covers can easily be swapped to allow for style changes in an instant!
ARC FLOOR LAMP WITH POLY CRYSTAL SHADES
Floor Lamps Collection by Coaster
03 Lighting
Bad lighting can deter you from spending a lot of time in your bedroom if you can't comfortably see while trying to do things. Likewise, a bedroom that is too bright is difficult to wind down in. Pay attention to natural lighting and the size of the room when selecting lamps or fixtures. If you plan on reading in bed, a simple reading light next to the bed can be considered. Ceiling lights can illuminate a wide area and save space. Lamp shades help diffuse lights to create a softer and more relaxing ambiance. Putting your lights on a dimmer switch also helps to diffuse lighting when you're looking for just enough light to be able to see, while still allowing for bright lighting when you need it.
RUSTIC DRESSER WITH FIREPLACE INSERT & MIRROR
Trinell Collection by Signature Design by Ashley
04 Dressers
Dressers are great because they are multifunctional and a fun way to decorate a room. They add style and storage by providing a tabletop that can be utilized for décor pieces, lamps, or a TV, while the drawers can tuck away your wardrobe and other accessories. They come in many shapes and sizes, so finding one to match your style and budget should be as easy as reading this sentence! If you don't have the floor space to add a dresser, this is when a bedframe with drawers would complement your lifestyle. These pieces are especially useful if you have limited closet space or just need additional storage options. You are not required to only put clothes into a dresser drawer, so get creative.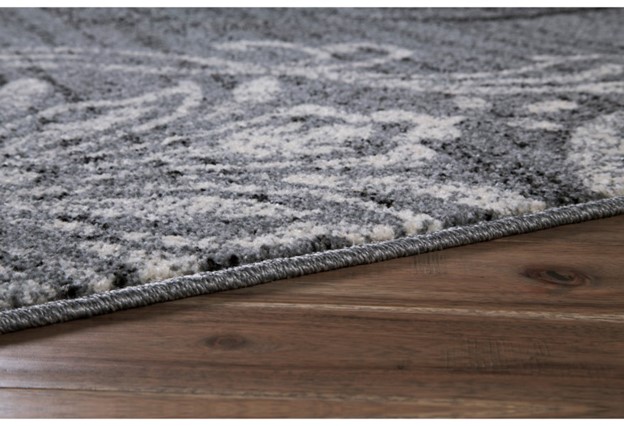 VERRILL GRAY/BLACK MEDIUM RUG
Transitional Area Rugs Collection by Signature Design by Ashley
05 Rugs
Rugs help to frame a room and add warmth and texture to your design. Even if you have wall-to-wall carpeting, your room could benefit from a rug that anchors your bed area. Use round rugs to soften hard edges created by beds and dressers. Adding a rug also opens the space, by creating the illusion that the room is divided into areas for specific activities.
CONTEMPORARY EASTERN KING UPHOLSTERED PANEL BED WITH CHROME ACCENTS
Menkar Collection by Furniture of America
06 Window Fixtures
Dressing your windows with curtains and fixtures can dramatically update a room's vibe. Curtains come in a wide variety of colors, textures, patterns, and shades, so you can find a match for any style. Room darkening curtains are great for bedrooms that get a significant amount of natural lighting when you're trying to sleep in on the weekends. Sheer curtains offer privacy while still allowing natural light in. Curtains can be layered, short, long, flowy, or checkered. Your options are limitless and styling your windows allows you to change up the style of a room quickly and cost effectively.
CONTEMPORARY PLANT STAND
Namid Collection by Acme Furniture
07 Plants
Incorporating nature into your home décor adds natural air filtration, color, and life to any space. Plants and greenery have been proven to boost moods, reduce stress, filter indoor air toxins, and create beautiful scenery which is perfect for a bedroom. Plants can be as tall or small as you'd like them to be and there are several faux options that are comparable to the real things for those who don't have a green thumb. Plants can be investment pieces, just like a decent piece of furniture – so choose wisely.